We are nine days into the Word Cup 2018 in Russia and it's already almost over for Messi and Argentina. Croatia's victory left Argentina close to being dropped out of the tournament,  while Messi's dream to follow in the footsteps of Diego Maradona turned into a nightmare.
Today Brazil faces Costa Roca before Nigeria aim at Iceland and Serbia play with Switzerland.  England goes against Panama on Sunday in the second game of Group G.
There is still much to see and things could shift at any moment. If Argentina's last resort is to rely on Nigeria to defeat or hold Iceland, they have a win to claim in the next week to regain stamina and hope.  
Right now Argentina has an infamous defeat to face and recover from. 90 minutes can change everything.
To watch the show from anywhere on the globe, you can set yourself up with a VPN service, that will only take you a few minutes to install and stream the games as they happen.

Here's what you need to do:

1. Download a VPN
You can go on MyIP.io and chose a VPN service that you can set up in minutes. The service is compatible with a great variety of devices and Oses and ranks among the fastest.

2. Connect to the right server location
In this case, just head straight to the UK, you'll find no restrictions what so ever for this year's World Cup there.
3. Go on TVPlayer.com
You can see all the games for free here, sign up is not necessary for live streaming. You will need however to first have point 1. (download a vpn ) in check, as you might get one of these screens.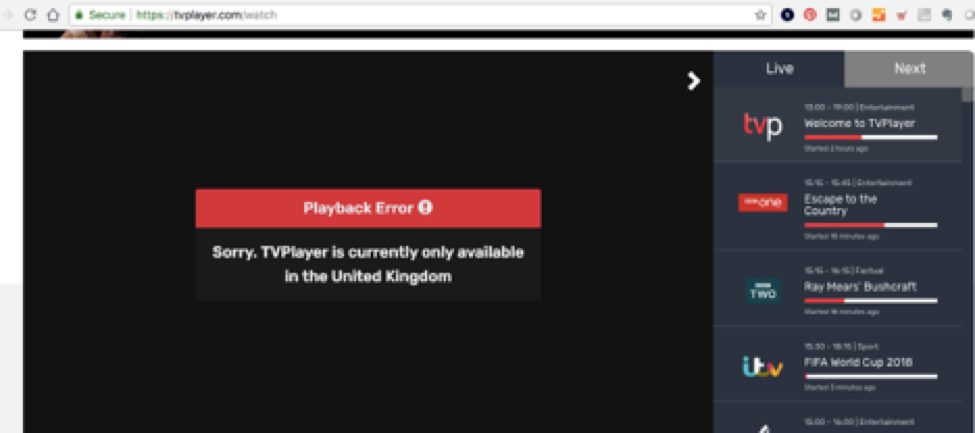 If you can't watch the match as it happens and want to record it to catch it in your spare time, you can do that by paying a £5.99 monthly fee that will allow you to record up to 10 hours of TV.  There's a 14-day free trial for this service, too, in case you just want to try it out.
Use a VPN to bypass any geo restrictions for this year's World Cup that will culminate with an epic clash between 2 titans Ronaldo (Portugal) and Messi (Argentina).  With 2 career world cup goals in advance Messi is leading the game so far, but Ronaldo still has time to catch up, these are their highlights to this date:


Below you can check World Cup schedule of each:
Messi's World Cup schedule:
Saturday, June 16: Argentina vs. Iceland, 9 a.m. ET
Thursday, June 21: Argentina vs. Croatia, 2 p.m. ET
Tuesday, June 26: Argentina vs. Nigeria, 2 p.m. ET
Ronaldo's World Cup schedule:
Friday, June 15: vs. Spain at 2 p.m. ET,
Wednesday, June 20: vs. Iran at 2 p.m. ET,
Monday, June 25: vs. Morocco at 2 p.m. ET,
Be sure to check groups and schedules here: